WIRELESS STETHOSCOPE
Heart sound auscultation using stethoscope is a primary stage to access diseases. This is an electronic stethoscope with a facility of wireless transmission based embedded processor. The data can be transmitted through wireless transmission mode using ESP32. A microphone is used to pick up the sound of the heartbeat. The signal is processed and amplified to play with or without earphone. Heart sounds are processed, sampled and sent wirelessly using ESP32 so that multiple doctors can do auscultation. PC connectivity is provided through serial port from where audio and video can be made available through LAN and internet for telemedicine consultation. Heart beat signals are sensed, sent, displayed, monitored, stored, reviewed, and analyzed with ease.
Guided By : Dr. Sheela S
Group Members:
1. Karthik Subramanian
2. Sruthy S Nair
3. Mohammed Rahees P
4. Harigovind G
---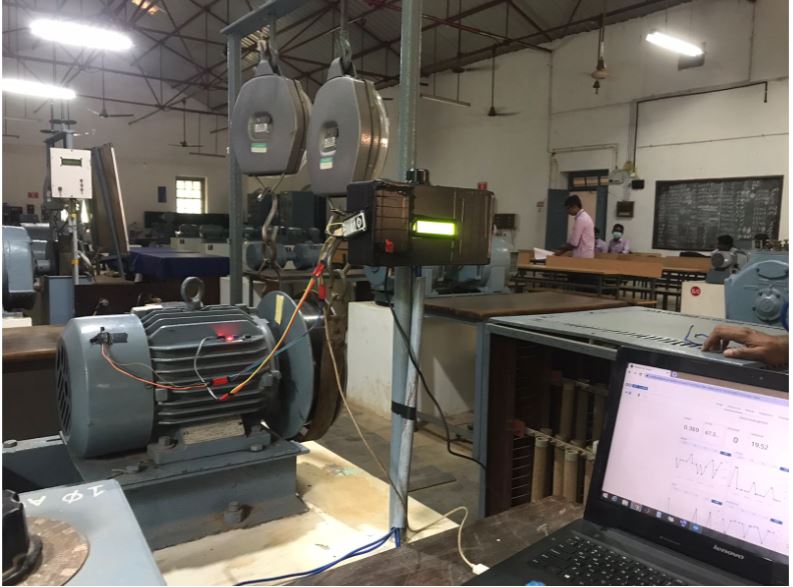 DYNAMIC PARAMETER MONITORING SYSTEM FOR ELECTRICAL MACHINES USING IOT
This is an IoT based electrical machine monitoring mechanism implemented in electrical machines lab, EEE department at NSS College of Engineering Palakkad. The system can monitor various parameters of machines like Voltage, Current, Speed and Temperature using IoT. The sensor unit connected to the machine collects parameters and uploads to the cloud. The data from the cloud can be accessed through the application installed in the computer. IoT enables the flexibility and liberty to access the machine placed in a remote area access to keep a continuous track of the machine behaviour in real time. A buzzer is used to alert when the parameters are abnormal. Application of this technology in electrical engineering is beneficial to observe different parameters which are not easy to access. Electrical equipment performance can be monitored on a real time basis to improve the operating span.
Guided by : Dr. SUJITH S
Group Members
HARISHMA H (LNSS18EE130)
KAILAS V (NSS18EE070)
NISAMUDDEEN PALLIYALI (NSS18EE091)
SAMADU S VILAKKATH (NSS18EE101)
---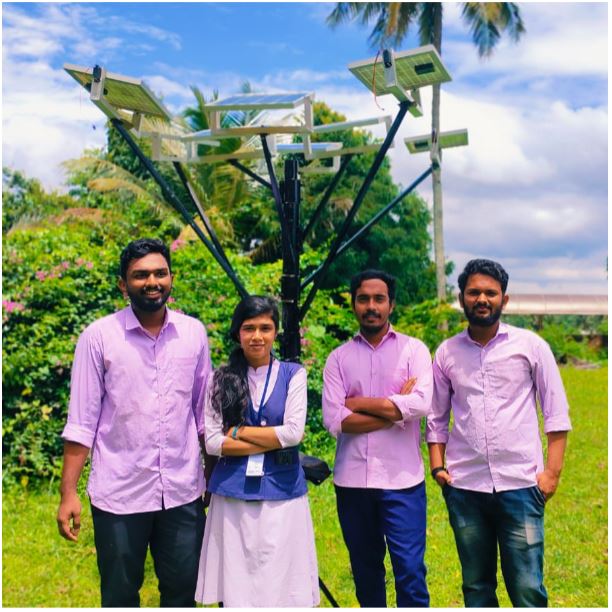 SOLAR POWER HARNESSING USING SOLAR TREE DESIGN AND TRACKING MECHANISM
A solar tree is a structure where solar modules are planted on a single pillar which looks like a tree trunk. It serves the dual purpose of being an artwork and an energy generator. This solar tree developed by students of EEE Department NSSCE has got an automatic servo motor-based tracking system which positions the panels in accordance with the position of the sun. The tree has 8 Number of 10W panels and a storage system of 12V, 7Ah battery. The making cost of solar tree is nearly Rs 9000 .
Guided by : Prof.Renjini G
Group Members
NIHAL IMTHIAZ
NIVEDITHA C
SREERAJ VISWANATHAN
YADHUKRISHNAN K
---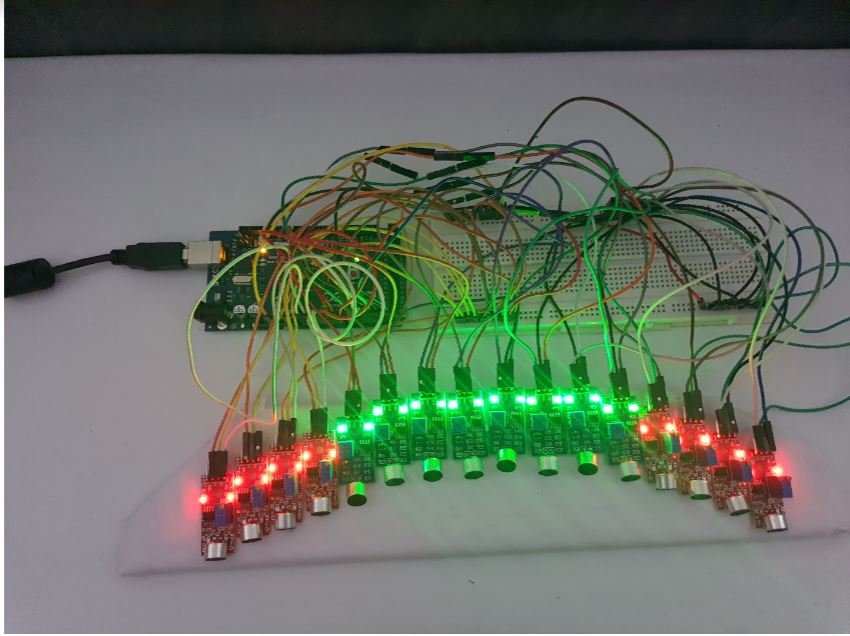 SACOUSTIC CAMERA
Acoustic imaging can be described as a method for recording and reconstructing the amplitude distribution of a propagating sound field in a given plane. In this project a 16-microphone array is used in order to capture the sound signal from a source and convert them into colour coded image with the help of MATLAB and Python by employing beamforming algorithm. The idea is to achieve the same in a stethoscope by miniaturising the same and using high sensitivity microphones and Field Programmable Gate Array which can decrease the time for obtaining the input intensities to get the sound from human internal body organs and find out the sound intensity differences by imaging the same in a screen a while diagnosing.
Guided by : Dr Smitha B
Group Members
Aparna V
Aravind H
Aravind KS
Gayathri A
---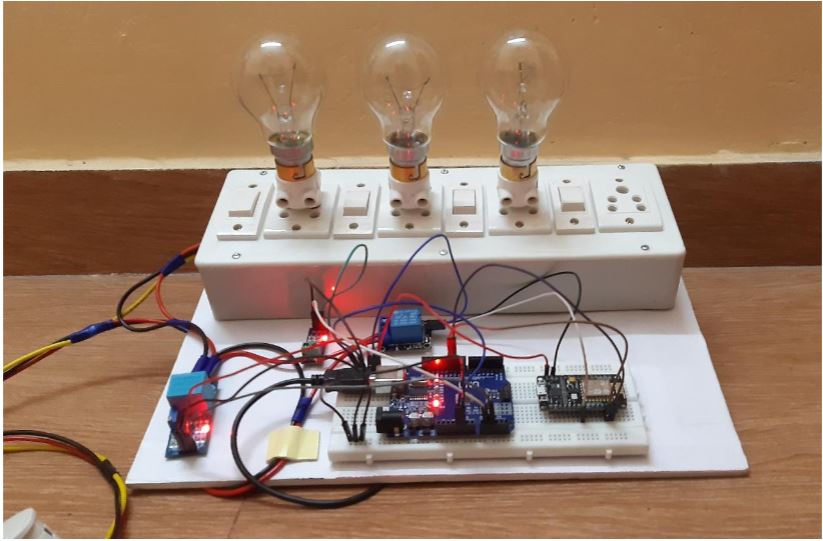 IOT BASED ENERGY MONITORING AND BILL PREDICTION SYSTEM.
The system does energy monitoring and bill prediction according to the day-by-day consumption of the consumer. The Arduino IoT cloud dash board displays the next days predicted energy and predicted energy bill, it can even predict for next two months and so on. So, the consumer can analyze their energy consumption pattern to limit it. The dashboard also contains a pre-set value widget so the consumer can set a unit for today's consumption and after crossing that pre-set unit relay will disconnect the supply, and consumer can restore the supply by charging the pre-set value.
Guided by : DR.Vasanthi V
Group Members
Amritha.S
Aysha Noora.N
Devanjana S.K
Aarathy Rudhra V.C
---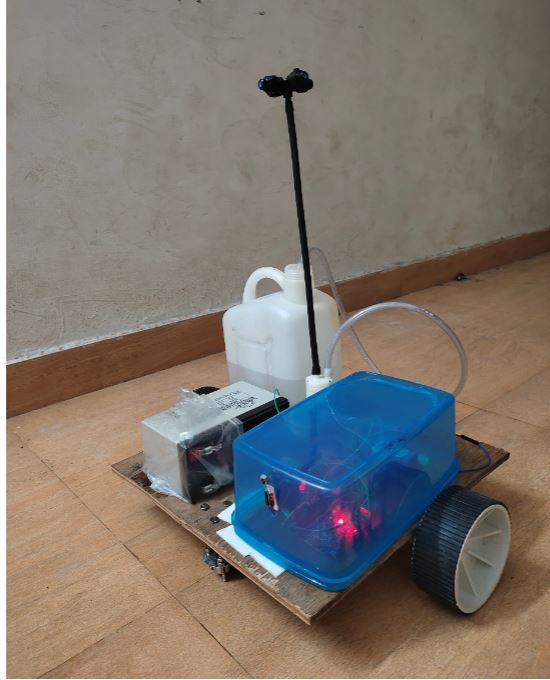 AUTOMATIC FUMIGATING ROBOT
The epidemic of the coronavirus has changed the lives of countries and people. There is a good probability that diseases will spread quickly. Continuous physical disinfection has numerous drawbacks and is a demanding operation. Particularly in constrained spaces such as isolation wards. Even with measures, chances of infection are high. A solution to this problem is Automatic Disinfection. The project proposes a fumigating robot to solve the above problem. The robot was developed to be mounted with a disinfectant spraying mechanism in order to save labour, limit the risk of human exposure to the viral environment, and maximize disinfection agent use efficiency and spraying effectiveness. Traditional dis- infection based on human work is limited by the operators time and attention. Robot disinfection, as opposed to manual disinfection, can be done around the clock, even during peak hours; it can protect humans from harmful surroundings or disinfectants and it can adapt to a variety of working situations. A differential drive robot is powered by Arduino UNO made to release automatic fumigation. The main instruction for path learning are fed to the robot using Infrared Remote (IR Remote) and Infrared Sensor(IR Sensor).Once the robot learned the path. It will store in the EPROM of the Arduino UNO and remember the path. An Ultrasonic Sensor is employed to detect the obstacles. The robot's body is equipped with a disinfectant tank and a disinfectant pump. Disinfector pump is controlled by an Arduino UNO through a relay module and chlorine dioxide (ClO2) sterilization technology to reduce bacteria and viruses in the air and on surfaces.
Guided by : Dr Leena N
Group Members
ABHINAV SHAJI N P
AKHISHNA A T
AL AMEEN MM
HASRATH JAMAN M
---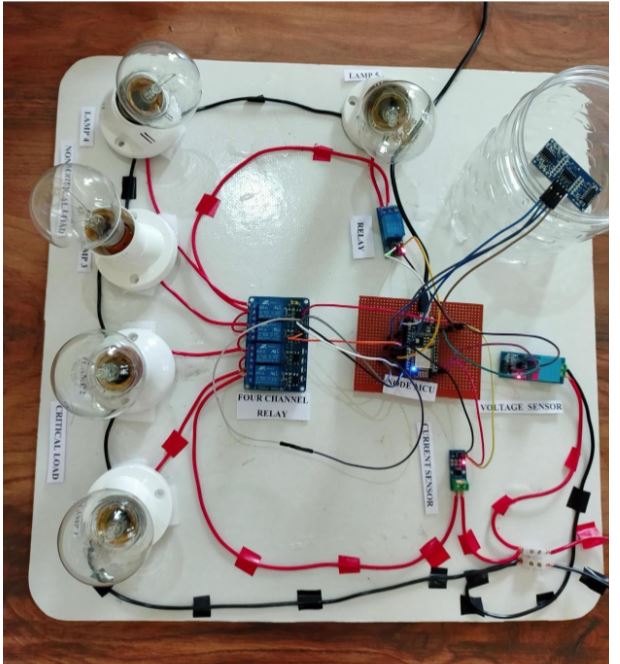 IOT-BASED SMART HOME AUTOMATION WITH PEAK LOAD CONTROL
Automation has become important in today's world as it helps to complete a task with lesser human assistance and in a smarter way. IoT is the newest and fastest growing technology. This system does home automation in an energy- efficient way by adding some sensors and features using IoT. The main function of this system is peak load control which means the noncritical loads will be turned off automatically at the time of peak load and will turn on automatically after the peak load period is over. The home appliances are controlled using an android application named BlynkApp which can automate the devices.
Guided by : Prof Rengini G
Group Members
Alby Sajee
Aleema Asharaf A
Amritha M
Anumol S