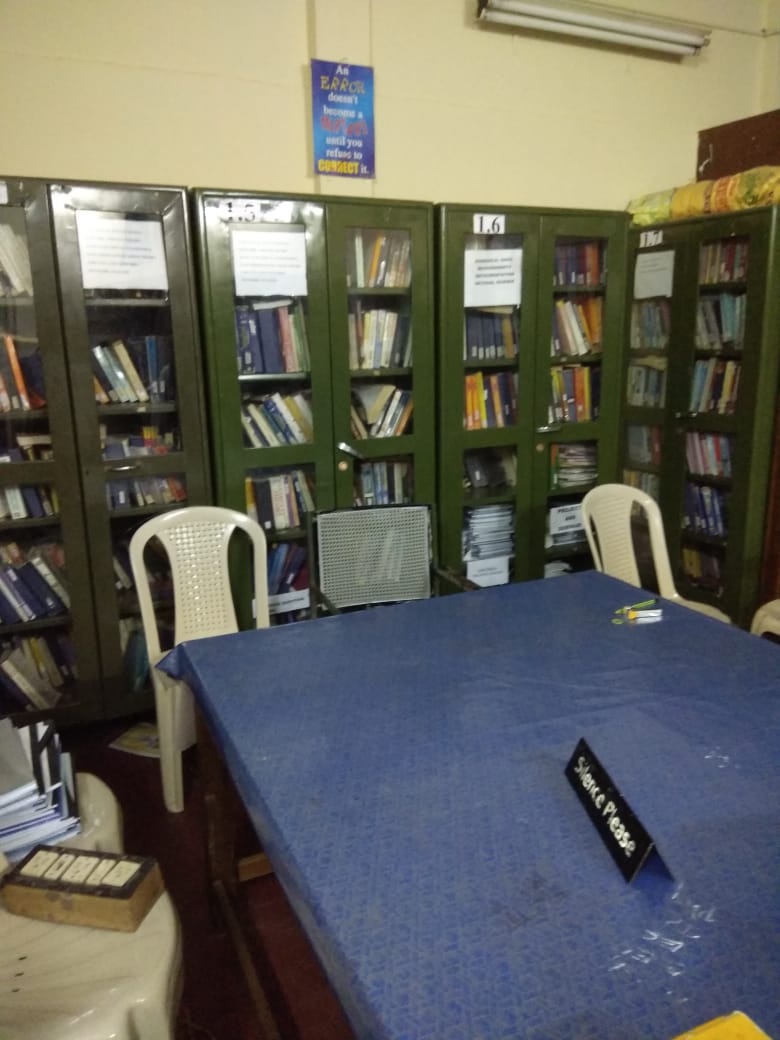 The EEE Library has an excellent collection of text books, journals and engineering materials in science, technology, humanities, social sciences and management. It maintains separate collections of Reference Books, Bound volumes of journals, Technical Reports and Thesis. EEE department has an air conditioned library which is located in the main building with a plinth area of 800 sq.ft. The EEE Library functions as the Departmental Library. The department library has a good collection of about 4375 books. The EEE library has collection of main transactions and magazines in Electrical and Electronics Engineering. The Library has a special collection of e-books of around 550 on engineering subjects.
The Library provides:
Reference/Text books
Previous years IEEE transactions.
INTERNET browsing facility for Staff and Students.
Previous University question papers for reference.
Previous year's seminar reports and project reports
To cater the needs of 530 EEE students, the EEE library is managed by two Faculty members. To enrich the collection of books in the library, staff members and students contribute books yearly to the department library.
Library Rules
The library remains open from 8.00 AM to 5.00 PM. on all working days.
Students are admitted in the Library and Reading Room on production of Identity Cards.
Books taken out by staff / students shall not be retained for more than a fortnight (14) days from the date of issue.
Failure to return a book on the due date makes the staff / student liable to a nominal fine towards the end of the semester.
Borrowers are responsible for the loss or damage to books taken out on loan or for consultation by them. The marking of books in ink or with pencil, spoiling or injury to binding, underling of passages, writing of remarks, etc on the leaves of the books or on illustrations, tearing off pages, pictures, etc. will be held to be serious charges.
Sub-Lending of books is not allowed.
Students must clear their dues after each semester.
All books taken by the Teaching, Non-Teaching and Students are to be returned in time for Annual Stock Verification.
In all matters regarding the library the decision of the library in charge shall be final.
TextBook Section
1.1 - Humanities, Technical Communication, Numerical Analysis, Engineering Graphics, Engineering Mathematics, English, Economics, Management, Organizational Behavior, Operations Research, Industrial Management, Entrepreneurship, Engineering Chemistry, Engineering Physics, Thermodynamics, Environmental Science.
1.2 – DC Machines, AC Machines, Machine Drawing, Generalized Machine Theory, Electrical Machine Design
1.3 – Electronic Circuits, Digital Electronics, Analog Electronics, Solid State Electronics, Linear Integrated Circuits, Digital System Design, Analog & Digital Communication
1.4 – Microprocessors, Microcontrollers, Soft Computing, Neural and Fuzzy Logic, Programming in C, VLSI, Turbo C, Computer Organization
1.5 – Power System Engineering, Power System Analysis, FACTS and Controllers, Switch Gear & Protection, Utilization of Electrical Energy, Renewable Energy, Power Plant Engineering.
1.6 – Electric Circuit Theory, Basic Electrical Engineering, Electrical system Design, Electromagnetic Field Theory, Circuits and Networks, Network Analysis
1.7 – Biomedical Engineering, Measurements, Instrumentation, Transducers and Measurements
1.8 – Control System, Signals and Systems, Digital signal Processing, Modern Control Theory
1.9 –Power Electronics, Electric Motor Drives, Electrical Drives and Automation
Reference Section
The reference section of the library has rich collection of International editions of reference books, hand books, conference proceedings, and various reference documents.
Back volumes
Back volumes of journals have been neatly binded and categorized under their respective subjects for reference
CD ROM
Engineering Text books and Conferences.
National Journal
1. Journal of Institution of Engineers – Electrical Engineering Division
2. Journal of Institution of Engineers – Electronics & Telecommunication Engineering
3. Technorama
IEEE Transactions
Transactions on Evolutionary Computation
Transactions on Neural Networks and Fuzzy Systems
Transactions on Education
Transactions on Biomedical Engineering
Transactions on Vehicular Technology
Transactions on Circuits and systems
Transactions on Automatic control
Transactions on Communications
Transactions on Power Delivery
Transactions on Semiconductor Manufacturing
Transactions on Engineering Management
Transactions on Energy Conservation
Transactions on Industrial Electronics
Transactions on Microwave theory & Techniques
Transactions on Power Electronics
Transactions on Industry Applications
Transactions on Information Theory
IEEE Journals
Solid State Circuits
Selected areas in Communication
Quantum Electronics
IEEE Magazines
Communications
Antennas and Propagations
Network
Electrical Insulation
Light wave telecommunication system
Computer
Control Systems
Systems